For my part I entertain a high idea of the utility of periodical publications; insomuch as I could heartily desire, copies of ... magazines, as well as common Gazettes, might be spread through every city, town, and village in the United States. I consider such vehicles of knowledge more happily calculated than any other to preserve the liberty, stimulate the industry, and ameliorate the morals of a free and enlightened people.- George Washington, 1788 in a letter to Matthew Carey, published of the Philadelphia Columbian Magazine.


SCENE in a prosperous Colonial printing shop, contemporary woodcut. Note the double presses and female printers.

About This Era and its Newspapers
The subject period of this catalog comprises the first fifty years or so of the United States, after independence was won in 1783 and up to the Penny Press era of the 1830's. Earlier papers are quite rare, and are offered individually in my Early Americana General Catalog. Later issues may be found in my 19th Century General Catalog.

The first era of American printing begins in 1639 and ends about 1830. These earliest printed items are the products of a pre-Industrial Age technology, printed on wooden "Franklin" presses on papers manufactured by a laborious hand process from rags, old clothing, and other newspapers.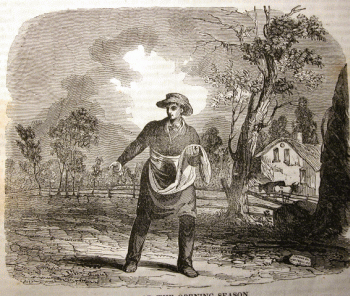 These wonderfully collectible imprints are charming in their simplicity, survivors of a sturdy era of hard, honest work by skilled crafts people. They are most appealing mementos of that long lost world and are among the most sought after of all American journalism history items.
Right, contemporary woodcut of Spring sowing. Almost all Americans lived on farms in this era.
The first newspaper appeared in Boston in 1690, entitled Publick Occurrences. Published without authority, it was immediately suppressed, its publisher arrested, and all copies were destroyed. The first successful newspaper was the Boston News-Letter, begun by postmaster John Campbell in 1704. Although it was heavily subsidized by the colonial government it enjoyed a very limited circulation. Two more papers made their appearance in the 1720's, in Philadelphia and New York, and the Fourth Estate slowly became established on the new continent. By the eve of the Revolutionary War, some two dozen papers were issued at all the colonies, although Massachusetts, New York, and Pennsylvania would remain the centers of American printing for many years.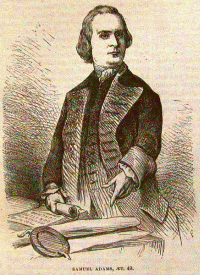 Articles in colonial papers, brilliantly conceived by revolutionary propagandists, were a major force that influenced public opinion in America from reconciliation with England to full political independence. All newspapers from the Colonial and Revolutionary years are quite rare today, with issues before 1750 extremely rarely seen in today's marketplace.
LEFT, Sam Adams, master Revolutionary era strategist whose articles frequently appeared in the BOSTON GAZETTE.
When America's independence was won in 1783 there were forty-three newspapers in print. The press played a vital role in the affairs of the new nation; many more newspapers were started, representing all shades of political opinion. The importance of the press to the young nation can hardly be overemphasized. Newspapers and the occasional magazine were the only medium of mass communication and the sole sources of information needed by Americans to make informed choices about their new government. The no holds barred style of early journalism, much of it libelous by modern standards, reflected the rough and tumble political life of the republic as rival factions jostled for power. The ratification of the Bill of Rights in 1791 at last guaranteed of freedom of the press, and America's newspapers began to take on a central role in national affairs. Growth continued in every state. By 1814 there were 346 newspapers.
It is worthy of remark that newspapers have almost entirely changed their form and character ... They have become the vehicles of discussion, in which the principles of government, the interests of nations, the spirit and tendency of public measures, and the public and private character of individuals are all arraigned, tried, and decided ... they have become immense moral and political engines, closely connected to the welfare of the state, and deeply involving both its peace and prosperity. -Miller, A Brief Retrospective of the Eighteenth Century, published in 1803
In these early years of the new independent America, the state was fragile and its future was far from certain. The war that resulted in American independence had been as much a civil war as a struggle against British authority. Loyalties were sharply divided among Americans, between those who kept allegiance to a king whose authority to rule them came directly from God (at least according to Church of England) and those who followed the radical French philosophes' declaration that the inalienable "rights of man" would now replace the traditional authority of church and state. Many colonial militia units fought alongside the recoats, in addition to those which fought against their traditional comrades-in-arms in past colonial wars with France and Spain.
In this difficult time the Federalist - Republican disagreements over the most important aspects of political philosophy and practice were endless and passionately defended - and there was violence, as Americans struggled, often without success, to explain themselves to each other. People used the same words, but their meanings and implementation differed drastically. The conversation nonetheless continued and in that discussion grew the symbolic language of the nation, having at its core the notions of liberty, independence, representation, what made a republic, separation of powers, "popular sovereignty," and, ultimately, who were "the people." In the controversy over the defining of state, the nation was born.
It has been said that to be American was to participate in the revolutionary dialogue that Adams and Jefferson had started. In these early years, our newspapers did not try to dampen the hostilities that this dialogue created. In fact, they amplified them, and helped bring about new crises for the state to manage. But as the only vehicles of mass communication, they made the dialogue possible, and there lies the vital link between early American journalism and American nationhood in this formative period.
The subject period of this catalog ends in the 1830's, at the dawn of the Industrial Age, when dramatic advances in printing and papermaking technology led to an explosion of newspaper growth. It became possible for the first time to produce a daily newspaper that could be sold for just a cent a copy, and so the period came to be known as the "Penny Press" revolution. Previously, newspapers were the province of the wealthy, literate minority, but now the availability of cheap, interesting reading material created a significant stimulus to the achievement of the nearly universal literacy now taken for granted in America. Examples of these later newspapers are offered for sale in the next section of my Introductory Catalog. Click here to go there.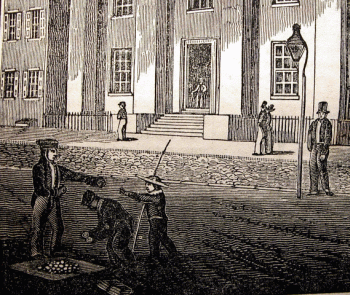 RIGHT, Street scene in Philadelphia, one of America's three large cities. Contemporary woodcut.
All items from this formative period of American journalism are now scarce to rare. An experienced printer and his apprentices could "pull" no more than six hundred newspapers a day; a circulation of two thousand copies per issue was considered exceptional throughout most of the period. Many papers produced less than five hundred copies of each issue. Almost all early papers and magazines ended up discarded or recycled into new paper. Only a few specimens saved by libraries, by the newspaper publishers themselves, and by a handful of individuals, and form these come the examples available to modern collectors.
About The Catalog Listings
All items in this catalog are unconditionally guaranteed to be genuine and accurately described. Any item may be returned within seven days of receipt for a full refund. No reason for return is ever required.They are in fine used condition and are complete with all pages as issued. All papers are free of damage or objectionable defects. I am are sure you will be delighted with their exceptional state of preservation. I purchase only the finest condition newspapers that can be found to offer to my valued friends and customers.
These are the finest quality original antique newspapers and magazines, that you might find elsewhere priced at much greater cost. It has always been my policy to present my catalog items at "wholesale to the public" prices. Therefore all catalog items and quoted prices are net, and are not subject to further discount, either for dealers or in consideration of quantity orders. It is our policy to price our items based on what we believe to be their fair market value. I do not set prices at absurdly inflated levels to take advantage of novices or "investors"; nor do employ the common ploy of starting with an unrealistically high price in order to "negotiate" a phony discount later. As over a third of our catalog orders are from dealers buying for resale, at our stated prices, we have every confidence that this policy maintains an ethical standard of integrity and fairness to all.
About These Newspapers and Magazines
The newspapers are full folio size unless described as quarto or octavo, which are respectively smaller in format, the latter being the standard size for most magazines. Most newspapers have been carefully removed from bound volumes and may exhibit characteristic minor spine weakness or separation without significant paper loss. Magazines are disbound from annual volumes and lack wraps unless otherwise stated, as these were very rarely preserved in the bound runs. Illustration plates are lacking unless described as present in the description, as most were framed by the original subscribers.
Historians delight in telling us what our history is and what it means. The documentarian, on the other hand, as often delights in recording and conveying the simple fact that we have had a history at all: that there was once a time when people looked like this, or sounded like that, or felt these ways about such things." -Ken Burns, Introduction to The Civil War, 1991
Each catalog entry is very briefly described for the general appearance, historical significance, and content of the title. Every issue contains hours of additional historic reading and insights into the world preserved on its pages, much more than I could find the space to describe here. The periodicals offered here are what are called "atmosphere" or "type" issues. They were printed on those ninety-nine days in a hundred that nothing of great historic note occurred. They are still of great value (and quite modest price) for the intimate glimpse they provide into a long-vanished world. Their articles detail what was important to Americans of those days, be it politics, wars, social values, or any of the other enduring human concerns. Even the ads, so modest by our standards, speak to us of the never-changing human wish for novelty, status, comfort, and security.
The exact dates that you will receive will be of my choice as stock allows, all from within the years listed. There is a good supply of different dates in stock of each title, so you may order multiples of each listing with confidence; all different dates will be provided. Catalog prices are per single issue. I cannot accept requests for specific dates or special historic content at these low "type issue" prices but we will be pleased to receive your want lists for such items.
I pride myself on the quality and accuracy of my catalog descriptions, and strive to provide all the information needed to enable you to make an informed selection. Please consult my collector information pages and glossary of terms page linked below, if you are not sure of what any of the descriptive terms mean.
Pictures of Cataloged Items
Digital photos are available of the items in this catalog. To view them, click on the small thumbnail illustration in the item description. You will then see on your screen a full-size version of that illustration. You can return to the catalog by using your browser's "BACK" command. All illustrations are of actual specimens being offered for sale, and were chosen as most representative of the items. The photos may depict a full page or a detail close-up, or several typical issues, but all papers are complete and undamaged as noted.
Please note that the camera flash tends to exaggerate foxing and spotting, some degree of which is normal in old paper and which is not so dramatic in person!
Glossary of Terms Page | Collector Information Page | Want List Page | Home Page
How to Order from This Catalog
My catalogs use a "shopping cart" system, which will take you from each catalog to a confirmation page and when you are ready, to the order checkout page. To use it, please be sure the "javascript" and "accept cookies" functions are enabled in your browser.
To order a catalog item, please enter the quantity of issues you want in the box in each item's description, then press the "Add to Cart" button. You will then see your "shopping basket" and its contents and total. You may remove selected items at any time, and use your browser's "Forward" button to view the cart page whenever you wish, and your "Back" button to return to the catalogs.
When you are ready to place your order, simply click "submit" on the completed shopping cart checkout page, and it will be e-mailed to me. As soon as I receive your order, I will confirm the availability of your selections via return e-mail, with your invoice for the total amount due, and I will reserve your confirmed selections for receipt of payment.
I accept checks, money orders, and all credit cards through PayPal, the free, safest Internet payment service. If you choose this payment option on your order form, I will request PayPal to send you a bill for the amount of your confirmed order. As soon as your payment is received, I will ship your order to you.
Postage per order addressed within the United States is 3.85 plus .40 per item. Postage will be added to overseas orders at my actual cost. There is a seven day return privilege on all items.

Your comments are always welcome, as are your inquiries, if you have questions about these historic collectibles. We value our customers, and appreciate the confidence you place in us when ordering from our online catalogs. We strive to merit your patronage and to enrich your collecting experience through accurate, knowledgeable descriptions, honest pricing, courteous service, and timely order filling. Enjoy your browsing!
---
---
Were it left to me to decide whether we should have a government without newspapers, or newspapers without a government, I should not hesitate a moment to prefer the latter.-Thomas Jefferson, 1787.
DETAIL of the COLUMBIAN CENTINEL masthead, with the "USA" device modeled on a Continental Army uniform button

Of the "S" that looks like an "F"

Many new collectors are confounded by the unfamiliar ways some words are found printed in old newspapers and documents. Foremost among these is the mistaken idea that the letter "f" was used where we today use an "s" . In the old Anglo-Saxon alphabet, from which the English alphabet is derived, the small "s" was written in two forms: one is the "long s" that resembles our modern letter "f" (but note, it does not have the center bar), which is used when the "s" is the first letter of the word, or the first of a pair of "s's"; the other is the familiar shaped "s" which appears at the end of words. This usage is cognate to the two forms of "s" in the Greek alphabet. English printer John Bell first phased out the use of the long "s" in his books at the end of the 1700's, and by 1810 or so the new practice was universal in printed material. Interestingly, though, the use of the old long "s" continued in handwritten documents for many years, through the 1870's. This innovation must have saved typesetters much labor!

Scene in a Colonial era American printing shop
"...the farmer will see his government supported, his children educated, and the face of his country made a paradise by the contributions of the rich alone, without his being called on to spend a cent from his earnings." -Thomas Jefferson, on federal taxation, 1811


DETAIL. Masthead of the INDEPENDENT CHRONICLE

The "Second War of Independence": The War of 1812
Of all the enemies to public liberty war is, perhaps, the most to be dreaded, because it compromises and develops the germ of every other. War is the parent of armies; from these proceed debts and taxes; and armies, and debts, and taxes are the known instruments for bringing the many under the domination of the few". -James Madison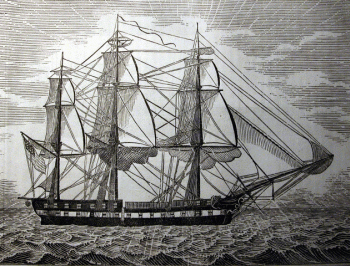 The War of 1812 was declared by the "Warhawk" Congress elected in the 1810 midterms, and proclaimed by a very reluctant President Madison on June 13, 1812. The conflict ended two and a half years later with the Treaty of Ghent, signed on Christmas Eve, 1814. The war had a profound if now largely forgotten impact on Americans who both supported and vocally opposed waging war on Great Britain, then the world's mightiest superpower. Many saw America's survival as evidence of a Divinely-inspired destiny, while other more pragmatic souls realized that lack of British political resolve and an incoherent military strategy had once again saved our freedom.

LEFT, U.S.S. Constitution, in a contemporary woodcut.

The United States could not be said to have won the war, for its goal of annexing Canada had failed, and the treaty that ended hostilities contained no concessions to the demands the U.S. had gone to war for. The British on the other hand failed in their plan to retake most of northern New England and New York as buffer zones to forestall another invasion of Canada and to extract heavy war reparations from the belligerent party. The only true losers were the surviving eastern Americna Indian tribes, from whom the British withdrew the protection they had provided since the 1760s, and who would now face the expanding U.S. alone.
News items, in typical period fashion, consist of letters from observers, official government documents, and items freely copied from other newspapers with which the editor "exchanged". In this era of horseback post riders and sailing vessels, all but the local news was usually weeks or months old before it appeared in print. There is full comment and every shade of opinion on the politicians of the day, not infrequently libelous by modern standards. As we approach the bicentennial of the war, these fine old papers offer excellent perspective on this dramatic fight for survival, and how the people of America responded to the challenges of the hour.
Newspapers of this early war are all far scarcer than Civil War era papers. In the faltering economy circulations dropped off in many cases to no more than a few hundred or a few thousand copies per issue. Because of wartime shortages and manufacturing problems, the paper available to print American newspapers during the war years was often of lesser quality, so fewer have survived the passage of time.
The papers offered here are in at least Very Good condition unless noted otherwise, and may show more foxing or browning than usual because of the lower quality wartime paper they were printed on. Note that the camera flash does tend to exaggerate browning and/or foxing.

For individually described War of 1812 newspapers, and the history of the war, please visit my catalog devoted to the conflict by clicking here.


N-225. THE MINERVA, typical issue printed in 1822. [Complete issue of 4 pages, quarto size, published at New York by George Houston and James G. Brooks].


Sub-headed a "Literary, Entertaining, and Scientific Journal", a fine weekly with a wide range of reading material on the stated topics, and inclusive of reviews, popular tales, criticism and some poetry. Nice addition to an unusual title collection. Minerva was the Roman Goddess of Wisdom, which that Classically educated generation readers would have recognized immediately. Good example of this popular genre of early American reading material, from the start of the expansion of the weekly miscellany, as urban Americans found more leisure time.
Condition is fine with light normal foxing. . . 4.95

Please enter your order quantity here:



DETAIL factory workers in the Masthead of the LYNN MIRROR

Select Here to go to our full Early Americana catalog, for newspapers individually described and catalogued for their historic significance, plus a further selection of "atmosphere" titles and selected ephemera.

Reference Books
Some references consulted in the preparation of this catalog, and suggested for further reading on the subject period, include the following:
Brigham, History and Bibliography of American Newspapers, 1690-1820. American Antiquarian Soc., 1947. Very important 2 vol. set, extensive historical data on these earlier newspapers is included.
Brown, E.T., Union List Of Serials in Libraries of the U.S. and Canada, 1965. Superb 5 vol. set lists magazines, periodicals of all kinds, U.S. and foreign, incl. some foreign newspapers; 156,499 titles in all.
Emery, The Press and America, Prentiss Hall, 1972. A college level journalism text; fairly available, a detailed introduction to the subject, with very useful bibliography listing most important titles on the history of U.S. journalism.
Mott, Frank L., American Journalism, Macmillan, 1941. The most detailed general reference book on the topic, a one volume library.
Mott, F.L., A History of American Magazines, Harvard, 1957. Extremely detailed 4 volume set, a marvel of scholarship.,
Thomas, Isaiah, The History of Printing in America. 1810, since reprinted many times. Classic, first work on the subject, by the famed publisher. Some inaccuracies but fascinating reading.
---
I hope you have enjoyed this catalog, and have found its contents useful and informative. Please feel free to e-mail your questions and comments to our address below. We look forward to hearing from you!



To continue browsing my introductory catalogs of historic newspapers, please click on the banners listed below.





Navigate my Website:
Contents ©:2016 Phil Barber.