.

About This Era and its Books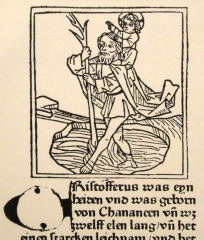 I am pleased to be able to present a sampling of original leaves from the first full century in which the art of printing was practiced in Europe. There is a wide variety of material to choose from in this catalog. Included are leaves representatives of some of the greatest early printing houses, and offering a wide variety of subjects, typefaces, and languages. All have been selected for their excellence as collectors' items.
Gutenberg's invention of the printing press in 1455 revolutionized communication and book production. The new art of printing spread with amazing rapidity from Germany across Europe, disseminated by emigrating German printers, and their foreign apprentices. The invention of printing changed literally everything in the western world. It produced the explosion of knowledge that led to unimaginable advances in the development of universal literacy, science, trade, travel, and commerce, and most notably it fanned the flame of freedom that had flickered so low for so long after the collapse of Ancient civilization.
For more information about early printing and how to collect and care for leaves, select here.
About The Leaves in This Catalog
All leaves in this catalog are unconditionally guaranteed to be genuine and correctly described and attributed. Each leaf comes with a complete written identification, certifying authenticity and specifying complete bibliographical data (author, title, date and place of printing and printer) plus other relevant descriptive and historical information and attribution as applicable to the standard histories of early books.
Each catalog item consists of a typical leaf from the selected work. Content of the individual leaves is of my choice as available in my stock. You may order multiples examples of leaves if desired, as I have a good number of each item currently in stock. There will be no duplication of content. Some catalog listings are one of a kind, as noted in the descriptions.
No complete books were vandalized to obtain these fine leaves. Rather, signatures or individual pages were rescued from books that were incomplete, or otherwise defective, in accordance with the generally accepted principles of the antiquarian book trade, which state &quot if a book is already incomplete, it is considered acceptable to remove and sell parts of the book.&quot Edwin V. Glaser, quoted in A B Bookman's Weekly.
Don't be astonished by my low prices, these are the finest quality original leaves that are obtainable, and which you might find elsewhere priced at much greater cost. It is my policy to price my items based on what I believe to be their fair market value. I do not set prices at absurdly inflated levels to take advantage of novices or "investors"; nor do I employ the common ploy of starting with an unrealistically high price in order to "negotiate" a phony discount later. It has always been my policy to present my catalog items at "wholesale to the public" prices. Therefore all catalog items and quoted prices are net, and are not subject to further discount, either for dealers or in consideration of quantity orders. As over a third of our catalog orders are from dealers buying for resale, at our stated prices, we have every confidence that this policy maintains an ethical standard of integrity and fairness to all.
The large photos on the right-hand side of the page are not of items for sale. They are provided to give a sense of the world from which these ancient leaves have survived, and are from contemporary engravings which depict printing presses of this period, engravers, paper-makers, and other activities associated with the early book trade.
Some Terms Used to Describe Early Leaves See also my Glossary of Terms Page
Text Leaf. A leaf from the main body of the book, containing the author's text. The usual format is single or double columns of text, quite often accompanied by printed sidenotes in the margins. Most often seen at this era in Roman typeface, though Black letter and Italic are sometimes employed. Universally printed in black ink, some leaves feature initials or passages also printed in red, quite a marvel of technology at this time, and highly prized today.

Initial Leaf. A leaf from the main body of the work, decorated with an Initial letter. Uncial initials are larger letters usually in a contrasting typeface and sometimes printed in red (whence our term "red letter day" comes from this usage in early Books of Hours). Historiated initials are those featuring elaborate engarved decorative borders or illustrationss around the letter, and are highly collectible works of art in miniature.

Index Leaf. A leaf from the book's index, or table of contents. Not considered as desirable as a leaf from the body of the book, still a most affordable means of obtaining an original example of the work of the earliest printers, as these pages were printed with no less attention to quality than the main part of the work.

Illustration leaf. A leaf having an engraved picture of the matter discussed in the body of the work. Most often seen are woodcuts, though the more sophisticated and detail copperplate engravings are sometimes employed, particularly for folding "plate" illustrations. Extremely collectible, perhaps the most highly sought for framed display.

Map leaf. A leaf having a map of the place discussed in the body of the work. Most highly prized leaves. The revival of geography began in the mid-16th century in Europe and all period map leaves are extremely collectible today and much sought-after.
Pictures of Cataloged Items
Digital photos are available of the items in this catalog. To view them, click on the small thumbnail illustration in the item description. You will then see on your screen a full-size version of that illustration. You can return to the catalog by using your browser's "BACK" command. All illustrations are of actual specimens being offered for sale, and were chosen as most representative of the items. The photos may depict a full leaf, a grouping of leaves, or a detail close-up. All leaves are complete and undamaged as noted.
Please note that the camera flash tends to exaggerate foxing and spotting, some degree of which is normal in old paper and which is not so dramatic in person!
Glossary of Terms Page | Collector Information Page | Want List Page | Home Page
How to Order from This Catalog
My catalogs use a "shopping cart" system, which will take you from each catalog to a confirmation page and when you are ready, to the order checkout page. To use it, please be sure the "javascript" and "accept cookies" functions are enabled in your browser.
To order a catalog item, please enter the quantity of leaves you want in the box in each item's description, then press the "Add to Cart" button. Some items are one of a kind and do not have a quantity option; for these simply press the "Add to Cart" button.. You will then see your "shopping basket" and its contents and total. You may remove selected items at any time, and use your browser's "Forward" button to view the cart page whenever you wish, and your "Back" button to return to the catalogs.
When you are ready to place your order, simply click "submit" on the completed shopping cart checkout page, and it will be e-mailed to me. As soon as I receive your order, I will confirm the availability of your selections via return e-mail, with your invoice for the total amount due, and I will reserve your confirmed selections for receipt of payment.
I accept checks, money orders, and all credit cards through PayPal, the free, safest Internet payment service. If you choose this payment option on your order form, I will request PayPal to send you a bill for the amount of your confirmed order. As soon as your payment is received, I will ship your order to you.
Postage per order addressed within the United States is just $3.85. Postage will be added to overseas orders at my actual cost. There is a seven day return privilege on all items.

Your comments are always welcome, as are your inquiries, if you have questions about these remarkable historic collectibles. We value our customers, and appreciate the confidence you place in us when ordering from our on line catalogs. We strive to merit your patronage and to enrich your collecting experience through accurate, knowledgeable descriptions, honest pricing, courteous service, and timely order filling. Our Glossary of terms web page may be reviewed for definitions of the descriptive terminology used in our catalogs and in the rare book trade generally. You can go to our e-mail want list form for special requests. Enjoy your browsing!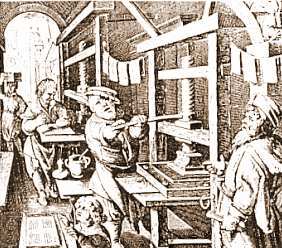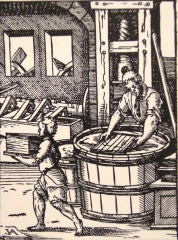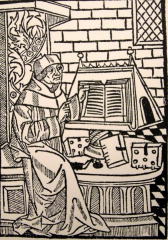 Leaves from a Lovely Illustrated Venetian Bible

ORIGINAL LEAVES from Biblia Sacra Vulgatae Editionis... (The Holy Bible, Jerome's Vulgate text),printed at Venice, Italy, by Damian Zenarus in 1603. Folio size, 9 1/2" x 14". Double columns of Latin text in Roman Letter font. Column and pages ruled in black. Occasional capitals and other decorative embellishment.
Pope Sixtus V ordered this revision of the Biblical text in 1589 in part to counter the rising power of emergent Protestantism and to assert the preeminence of the Vatican's temporal authority in Catholic Spain and France. On his death bed (he died in 1590) his subjects loathed Sixtus V, but history has recognized him as one of the great figures of the Counter Reformation.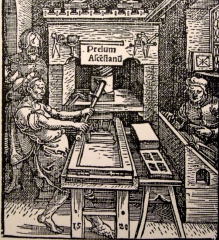 He is said to have been impulsive, obstinate, severe, and autocratic, as well as open to large ideas, energetic, and above all, determined. His reign saw great enterprises and large achievements.
This edition was finely printed and is quite a handsome large format Latin Bible over 400 years old yet in lovely clean condition. I offer leaves as follows: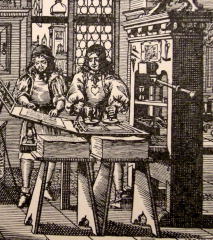 LF-2378. Early Printed Leaf from The Pentateuch, with Commentaries by Rashi et al., printed by at Basel, Switzerland in 1618. Large folio size, measuring 10½" x 15¾".


A very attractive early leaf, printed entirely in Hebrew in finely wrought typeface of varying sizes. In the classical presentation, the Biblical text appears in large double columns while the commentaries appear in a smaller type face flanking the main body of the text. Lovely display leaf offered at a special price. Darlow & Moule No. 5120.
Condition is choice clean very fine . . . 9.95

Enter your order quantity here:
---



To continue browsing my catalogs of early leaves, please click on the banners listed below.


---
Some References Cited in this Catalog
D&M. Darlow & Moule, Historical Catalogue of Printed Editions of the Bible. London, 1903
Hain-Coppinger, Repertorium Bibliographicum, London, 1895 - 1902
STC. Pollard & Redgrave, A short-title catalogue of books printed in England, Scotland and Wales...1475 - 1640. London, 1926.

---
We hope you have enjoyed this catalog, and have found its contents useful and informative. Please feel free to e-mail your questions and comments to our address below. We look forward to hearing from you!

Navigate my Website:

Contents ©:2017 Phil Barber.