About This Era and its Books
The leaves in this catalog are the oldest examples of the work of Medieval scribes and Renaissance printers that are in existence and can be obtained by the collector today. They are wonderful, unique works of art in miniature, worthy of a place in any fine collection.
Before Gutenberg introduced the art of printing from movable type to the western world in 1455, all books were copied by hand. The results of the scribes' work were beautiful books, each one a unique treasure. The process of handwriting books was however laborious and expenisve. It insured that books, and the knowledge they contained, remained accessible only to the small, wealthy elite of nobility and clergy who held absoliute sway over European and English life.
With the invention of printing, everything changed. Within a few decades the accumulated wisdom of the world was being reproduced abundantly at a cost far lower than had ever been dreamed possible. This explosion of knowledge was key to the development of universal literacy, science, trade, travel, and commerce. And most profoundly, with the promulgation knowledge and reason came a new reverence for the rights and dignity of the individual, which would eventually relegate kings and emperors and prelates to the dustbin of history.
About The Leaves in This Catalog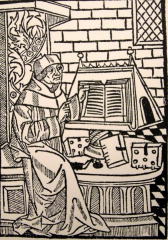 All leaves in this catalog are unconditionally guaranteed to be genuine and correctly described and attributed. Each leaf comes with a complete written identification, certifying authenticity and specifying complete bibliographical data (author, title, date and place of writing or of printing and printer) plus other relevant descriptive and historical information and refrence where applicable to the standard histories of early books.
No complete books were vandalized to obtain these fine leaves. Rather, signatures or individual pages were rescued from books that were incomplete, or otherwise defective, in accordance with the generally accepted principles of the antiquarian book trade, which state &quot if a book is already incomplete, it is considered acceptable to remove and sell parts of the book.&quot Edwin V. Glaser, quoted in A B Bookman's Weekly.
Don't be astonished by my low prices, these are the finest quality original leaves that are obtainable, and which you might find elsewhere priced at much greater cost. It is my policy to price my items based on what I believe to be their fair market value. I do not set prices at absurdly inflated levels to take advantage of novices or "investors"; nor do I employ the common ploy of starting with an unrealistically high price in order to "negotiate" a phony discount later. It has always been my policy to present my catalog items at "wholesale to the public" prices. Therefore all catalog items and quoted prices are net, and are not subject to further discount, either for dealers or in consideration of quantity orders. As over a third of our catalog orders are from dealers buying for resale, at our stated prices, we have every confidence that this policy maintains an ethical standard of integrity and fairness to all.
Pictures of Cataloged Items
Digital photos are available of the items in this catalog. To view them, click on the small thumbnail illustration in the item description. You will then see on your screen a full-size version of that illustration. You can return to the catalog by using your browser's "BACK" command. All illustrations are of actual specimens being offered for sale, and were chosen as most representative of the items. The photos may depict a full leaf, a grouping of leaves, or a detail close-up. All leaves are complete and undamaged as noted.
Please note that the camera flash tends to exaggerate foxing and spotting, some degree of which is normal in old paper and which is not so dramatic in person!
Glossary of Terms Page | Collector Information Page | Want List Page | Home Page
How to Order from This Catalog
My catalogs use a "shopping cart" system, which will take you from each catalog to a confirmation page and when you are ready, to the order checkout page. To use it, please be sure the "javascript" and "accept cookies" functions are enabled in your browser.
To order a catalog item, please enter the quantity of leaves you want in the box in each item's description, then press the "Add to Cart" button. Some items are one of a kind and do not have a quantity option; for these simply press the "Add to Cart" button.. You will then see your "shopping basket" and its contents and total. You may remove selected items at any time, and use your browser's "Forward" button to view the cart page whenever you wish, and your "Back" button to return to the catalogs.
When you are ready to place your order, simply click "submit" on the completed shopping cart checkout page, and it will be e-mailed to me. As soon as I receive your order, I will confirm the availability of your selections via return e-mail, with your invoice for the total amount due, and I will reserve your confirmed selections for receipt of payment.
I accept checks, money orders, and all credit cards through PayPal, the free, safest Internet payment service. If you choose this payment option on your order form, I will request PayPal to send you a bill for the amount of your confirmed order. As soon as your payment is received, I will ship your order to you.
Postage per order addressed within the United States is just $3.85. Postage will be added to overseas orders at my actual cost. There is a seven day return privilege on all items.

Your comments are always welcome, as are your inquiries, if you have questions about these remarkable historic collectibles. We value our customers, and appreciate the confidence you place in us when ordering from our on line catalogs. We strive to merit your patronage and to enrich your collecting experience through accurate, knowledgeable descriptions, honest pricing, courteous service, and timely order filling. Our Glossary of terms web page may be reviewed for definitions of the descriptive terminology used in our catalogs and in the rare book trade generally. You can go to our e-mail want list form for special requests. Enjoy your browsing!
---

None are presently available for sale. Please e-mail us a note if you are interested in collecting these leaves, so we can notify you personally when we obtain more examples. These leaves are very popular collectibles and are becoming quite hard to find. They sell out quickly!
An information page about the history and collectibility of early manuscripts is available for viewing now by selecting this link.
---

"Incunabula" refers to works printed in the first half century of printing, dating 1455 to 1500. They are the most highly prized of all collectible leaves and books. For more information about Incunabula select here.

Unfortunately, no leaves of the Incunabula period are presently in stock. The catalog will be updated when I locate them. Please e-mail me at the link below if you would like to be notified when new inventory is available.
---
I hope you have enjoyed this modest catalog, and have found its contents useful and informative. Please feel free to e-mail your questions and comments to our address below. We look forward to hearing from you!



To continue browsing my catalogs of early leaves, please click on the banners listed below.


Navigate my Website:
Contents ©:2017 Phil Barber.