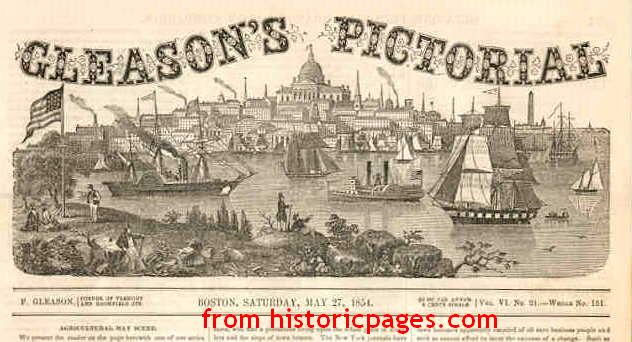 I am pleased to present in this catalog a nice selection of dates of the first successful illustrated weekly newspaper in America. Modeled on the London pictorial press, Gleason's Pictorial sought to give a distinctive American flavor to its articles and illustrations. They possess a unique charm, capturing the essence of antebellum America in a more intimate way than the later more sophisticated New York weeklies would. The 1850's preserved in these articles and engravings was a period of intense political, social, and economic upheaval. The smaller, rural nation portrayed here was vanishing, lost forever to the Industrial Revolution. The unity of the nation was dissolving in the white heat of the slavery crisis, soon to spark a terrible sectional war. Vast numbers of immigrants poured into the country, bringing with them new ways and values. Everywhere technology, new ideas, and new economics were sweeping away America's traditional way of life. Period nostalgia for the simpler "good old days" of the Founding Fathers in this paper can be quite touching. There is also a fine engraved masthead depicting a busy Boston harbor filled with steam and sailing vessels. The name of the paper changes in 1855 to Ballou's Pictorial, as managing editor Maturin Ballou bought out the ownership of the newspaper from Frederick Gleason, who sold out in the belief that he had made a sufficient profit from the paper. Sadly, this pioneering editor's later ventures failed, and he died in abject poverty.
These weekly papers are large quarto in size, about 12" by 16", and contain sixteen pages to the issue. We have listed the issues here by a very brief summary of what we consider the highlights of their content. There is much more in every issue than I have the space to describe. I have attempted to describe the illustrations only. In addition to its eight pages of woodcuts, each newspaper contains eight more pages of reading material, in the form of features, stories, editorials, etc.
All items are in problem-free fine condition, unless otherwise noted. Many of the issues were removed from bound annual volumes, which preserved them extremely well over the years; they may thus exhibit some normal spine separation, which affects no content. Any losses, damage, or defects to text or illustrations will be described where it exists. Because the collector value of these papers is dependent on the quality and condition of the prints we have endeavored to describe the same carefully and not generally to note trivial matters such as margin wear that does not affect the collectible content.
To save space I have adopted the following abbreviations to describe the size of the engravings:
TP - titlepage or cover illustration, usually a full page subject.
FP - fullpage, an illustration filling the entire page on which it is printed
CF - centerfold, or double page illustration, highly collectible and most impressive for framed display.
About This Catalog
All items in this catalog are unconditionally guaranteed to be genuine and accurately described. They are in fine used condition and are complete with all pages as issued. We are sure you will be delighted with their exceptional state of preservation. We purchase only the finest condition newspapers that can be found to offer to our valued friends and customers. All papers are free of damage or objectionable defects.
These are the finest quality original antique newspapers and magazines, that you might find elsewhere priced at much greater cost. It has always been my policy to present my catalog items at "wholesale to the public" prices. Therefore all catalog items and quoted prices are net, and are not subject to further discount, either for dealers or in consideration of quantity orders. It is our policy to price our items based on what we believe to be their fair market value. I do not set prices at absurdly inflated levels to take advantage of novices or "investors"; nor do employ the common ploy of starting with an unrealistically high price in order to "negotiate" a phony discount later. As over a third of our catalog orders are from dealers buying for resale, at our stated prices, we have every confidence that this policy maintains an ethical standard of integrity and fairness to all.
Your comments are always welcome, as are your inquiries, if you have questions about these historic collectibles. We value our customers, and appreciate the confidence you place in us when ordering from our on line catalogs. We strive to merit your patronage and to enrich your collecting experience through accurate, knowledgeable descriptions, honest pricing, courteous service, and timely order filling. Enjoy your browsing!
Glossary of Terms Page | Collector Information Page | Want List Page | Home Page
How to Order from This Catalog
Because catalog items tend to sell quickly, I ask that you e-mail your order to me to confirm availability before you send payment. My catalogs use a "shopping cart" system, which will take you from each catalog to a confirmation page and when you are ready, to the order checkout page. To use it, please be sure the "javascript" and "accept cookies" functions are enabled in your browser.
To order a catalog item, please press the "Add to Cart" button. You will then see your "shopping basket" and its contents and total. You may remove selected items at any time, and use your browser's "Forward" button to view the cart page whenever you wish, and your "Back" button to return to the catalogs.
When you are ready to place your order, simply click "submit" on the completed checkout page, and it will be e-mailed to me. As soon as I receive your order, I will confirm the availability of your selections via return e-mail, with your invoice for the total amount due, and I will reserve your confirmed selections for receipt of payment.
I accept checks, money orders, and all credit cards through PayPal, the free, safest Internet payment service. If you choose this payment option on your order form, I will request PayPal to send you a bill for the amount of your confirmed order. As soon as your payment is received, I will ship your order to you.
Postage for an order delivered within the United States is $3.85 plus 0.45 per issue ordered. Postage will be added to overseas orders at my actual cost. There is a seven day return privilege on all items and of course my unconditional guarantee of the authenticity of everything I sell.
---
An updated catalog listing will be on line soon.
---
I hope you have enjoyed this catalog, and have found its contents useful and informative. Please feel free to e-mail your questions and comments to our address below. We look forward to hearing from you!