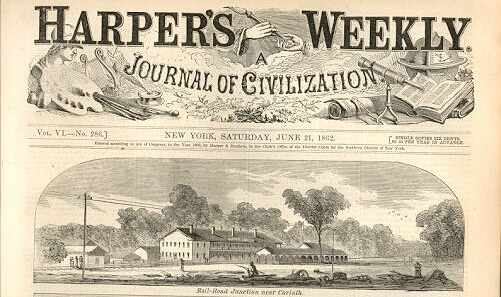 About This Newspaper
Harper's Weekly was published at New York, the most famous of all American pictorials, printed from 1857 until 1916. The work of many noted artists and talented engravers is preserved here, along with editorial comment that had a profound influence on the nation's social, political, and economic life. A true American classic, and today an enormously popular collectible. Each issue contains eight pages of large woodcut illustrations, plus eight pages of news and commentary. The news was culled from New York's finest Republican dailies and perfectly compliments the pictures. The enduring fame of the paper rests in its vast number of illustrations. These powerful woodcuts document the everyday realities of American life, as well as its most dramatic moments, in the finest technology of the period.
These weekly papers are large quarto in size, about 12" by 16", and contain sixteen pages to the issue. We have listed the issues here by a very brief summary of what we consider the highlights of their content. There is much more in every issue than I have the space to describe. I have attempted to describe the illustrations only. In addition to its eight pages of woodcuts, each newspaper contains eight more pages of reading material, in the form of features, stories, editorials, etc.
All items are in problem-free fine condition, unless otherwise noted. Many of the issues were removed from bound annual volumes, which preserved them extremely well over the years; they may thus exhibit some normal spine separation, which affects no content. Any losses, damage, or defects to text or illustrations will be described where it exists. Because the collector value of these papers is dependent on the quality and condition of the prints we have endeavored to describe the same carefully and not generally to note trivial matters such as margin wear that does not affect the collectible content.
To save space I have adopted the following abbreviations to describe the size of the engravings:
TP - titlepage or cover illustration, usually a full page subject.
FP - fullpage, an illustration filling the entire page on which it is printed
CF - centerfold, or double page illustration, highly collectible and most impressive for framed display.
---
UPDATE

Please note that all issues of Harper's Weekly are now catalogued in my regular online newspaper catalogs. They are available by date as follows:

For issues dated 1857 to 1861 and 1865 - 1910, please click here
For issues dated during the Civil War, 1861 - 1865, please click here
---