Presented for sale by Phil Barber, Post Office Box 8694, Boston, Mass. 02114-0036 Telephone (617) 492-4653
www.historicpages.com
---
What are "Leaves"?
"Leaves" are pages from the earliest books. To obtain these fine leaves, signatures or individual pages were rescued from books that were incomplete, or otherwise defective, in accordance with the generally accepted principles of the antiquarian book trade, which state &quot if a book is already incomplete, it is considered acceptable to remove and sell parts of the book.&quot Edwin V. Glaser, quoted in A B Bookman's Weekly. No complete books were vandalized to obtain these leaves.
All leaves in my catalog are supplied with complete written identifications, certifying authenticity and specifying complete bibliographical data (author, title, date and place of printing and printer) plus other relevant descriptive and historical information and attribution where applicable to the standard reference works on early books.
About Collecting Leaves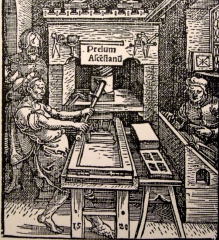 I first encountered early leaves for sale at the old Pageant Book and Print Shop in New York, in the 1970's, and was immediately entranced by their great age and beauty, and generally remarkable state of preservation. I acquired a number of lovely specimens then that still grace my office walls. In researching my new treasures I found that the collecting of leaves is a long standing tradition, which originated among Euopean bibliophiles of the seventeenth century. Even then Incunabula and other early books were vanishing and highly prized. Today, the old leaves are wonderful and affordable specimens of the work of the first printers in the western world, and of their predecessors who wrote their books entirely by hand. In addition, the illustrations found on many of the leaves listed here are superb works of art in miniature, and are highly prized by modern connoisseurs. Early leaves are ideal for framed display, and will add their unique charm to the ambiance of your home or office.
Our Glossary of terms web page is on line and may be reviewed for definitions of the descriptive terminology used in our catalogs and in the rare book trade generally. Further info pages on the collecting and care of early leaves are accessible through links in the catalog. You can go to our e-mail want list form for special requests.
The Catalogs
My catalog of early leaves is divided into three sections, which you can access by clicking on the links here or the banners below. They are
To browse my catalogs of genuine early printed leaves, please click on the topics listed below.



---
Some References Cited in the Catalogs

D&M. Darlow & Moule, Historical Catalogue of Printed Editions of the Bible. London, 1903
Goff, Incunabula in American Libraries, N.Y., 1972
Hain-Coppinger, Repertorium Bibliographicum, London, 1895 - 1902
Herbert, Historical Catalogue of Printed Editions of the English Bible, 1525 - 1961. London, ABS, 1968.
STC. Pollard & Redgrave, A short-title catalogue of books printed in England, Scotland and Wales...1475 - 1640. London, 1926.

---
Suggested Bibliography for Reading about Early Books

Berry, The Annals of Printing, Blandford, 1966
Carter, et al., Printing and the Mind of Man, London, 1967
Chappell, A Short History of the Printed Word, Knopf, 1970
McMurtie, The Book, Covici Friede, 1938
Oswald, A History of Printing, Appleton, 1928
Pollard, Early Illustrated Books, London, 1898
Thomas, Great Books and Book Collectors, Excalibur, 1983
---
Navigate my Website:
Contents ©:2013 Phil Barber.