About This Era and its Newspapers
Those hot, sad, wrenching times - the army volunteers, all states, or North or South: the wounded, suffering, dying; the exhausting, sweating summers; marches, battles' carnage; those trenches hurriedly heaped by the corpses, thousands, mainly unknown - will the America of the future, will this vast, rich Union ever realize what itself cost back there, after all?" -Walt Whitman.
Human nature will not change. In any future great national trial, compared with the men of this time, we shall have as weak and as strong, as silly and as wise, as bad and as good. Let us therefore study the incidents of this, as philosophy to learn wisdom from... Abraham Lincoln, President, United States of America, November, 1864
I clearly foresee that nothing but the rooting out of slavery can perpetuate the existence of our union, by consolidating it in a common bond of purpose. -President George Washington, private correspondance, 1793
All our misfortune arises from a single source, the reluctance of the Southern colonies to republican government ... The difficulties lie in forming constitutions for particular colonies, and a continental constitution. This can only be done on popular principles and maxims which are so abhorrent to the inclinations of the barons of the South, and the proprietary interests in the middle colonies, as well as that avarice of land which has made upon this continent so many votaries to Mammon that I sometimes dread the consequences. - John Adams, letter to Horatio Gates, 1775
I admit your conclusions in respect to us Southrons -- that we are essentially aristocratic. I cannot deny but we can and do yield much to Democracy; this is our sectional policy. We are from necessity thrown upon and solemnly wedded to that party, however it may occasionally clash with our feelings, for the conservation of our interests. It is through our affiliation with that party in the Middle and Western States we control, under the Constitution, the governing of the United States; but when we cease thus to control this nation through a disjointed Democracy, or any material obstacle in that party which shall tend to throw us out of that rule and control, we shall then resort to the dissolution of the Union. -John C. Calhoun, to a fellow Congressman in the House of Representatives, December, 1812
We are proud to be able to offer a varied selection of original newspapers and other ephemera of the years of the Civil War. These amazing eyewitness documents bring this most dramatic period of our history to life in a way that no other medium can duplicate. The outcome of the war was far from certain for much of the time, and the news of battles, of diplomacy, of the nation's movers and shakers was avidly, almost obsessively sought after by Americans of those days.
It is only those who have neither fired a shot nor heard the shrieks and groans of the wounded who cry aloud for blood, more vengeance, more desolation. War is hell. -William Tecumseh Sherman, General, United States Army, 1864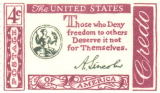 Contemporary newspapers are a unique treasury of the era, offering first-person narratives of life in military service, and commentary on the social, political, and economic scenes. They are also rich in detailed reports of the great battles upon which the destiny of the nation would hinge, and, in the pictorial press, fine woodcut images of the war's events and participants. The familiar features of the modern newspaper are however lacking in Civil War newspapers. Such staples of Twentieth Century daily journalism as bold front page headlines, illustrations and cartoons, sports and comics sections, and physical size of more than four or eight pages would come into being as results of technological developments still far in the future in the eighteen sixties. Yet, the newspapers reflect the style and sensibility of their time with unique and often dramatic immediacy, and capture the very best of their era.
But what a cruel thing is war, to separate and destroy families and friends, to mar the purest joys and happiness God has granted us in this world, to fill our hearts with hatred instead of love for our neighbors, and to devastate the fair face of this beautiful world. Robert E. Lee, General, Army of Northern Virginia, letter to his wife, Christmas, 1862.
In the newspapers too, a careful reader can trace the genesis of the myths that have replaced the realities of the war. Later interpretations have obscured many its causes and prime movers, from the common misconception that the war was fought to free the slaves, to the myth of the heroic "Lost Cause" of the Confederacy. You may also read of the manipulation of the press, arrests of outspoken editors, and imprisonment without charges or trial of those who dared to speak out against the war policies of both regimes - all too frequent occurrences which are rarely mentioned in conventional histories.
Our new government is founded upon the great truth that the negro is not equal to the white man; that slavery, subordination to the superior race, is his natural and moral condition. This, our new government, is the first in the history of the world, based upon this great physical, philosophical, and moral truth... -Alexander Stephens, Vice-President, Confederate States of America, speech at Savannah, Georgia, March 21, 1861

To suppose that slavery, the accursed thing, could be abolished peacefully, and laid aside innocently, after having plundered cradles, separated husbands and wives, parents and children; and after having starved to death, worked to death, whipped to death, ran to death, burned to death, lied to death, kicked and cuffed to death; and, worst of all, having made prostitutes a majority of the best women of a whole nation of people . . . would be the greatest ignorance under the sun. -Thomas Strother, private, 1st United States Colored Troops, 1863
The Civil War was, at its core, a military battle for the soul of the country. It pitted the more communalist, democratic and industrialized Northern vision of the American future against the hierarchical, aristocratic, agrarian Southern one. Though the Union won the war, the fundamental conflict at its root still hasn't been resolved to this day. Yet from these four years of horror emerged a unified nation, in which today the idea of disunion is simply inconceivable.
About The Catalog Listings
All items in this catalog are unconditionally guaranteed to be genuine and accurately described. Any item may be returned within seven days of receipt for a full refund. No reason for return is ever required.They are in fine used condition and are complete with all pages as issued. All papers are free of damage or objectionable defects, unless otherwise described. I am are sure you will be delighted with their exceptional state of preservation. I purchase only the finest condition newspapers that can be found to offer to my valued friends and customers.
These are the finest quality original antique newspapers and magazines, that you might find elsewhere priced at much greater cost. It has always been my policy to present my catalog items at "wholesale to the public" prices. Therefore all catalog items and quoted prices are net, and are not subject to further discount, either for dealers or in consideration of quantity orders. It is our policy to price our items based on what we believe to be their fair market value. I do not set prices at absurdly inflated levels to take advantage of novices or "investors"; nor do employ the common ploy of starting with an unrealistically high price in order to "negotiate" a phony discount later. As over a third of our catalog orders are from dealers buying for resale, at our stated prices, we have every confidence that this policy maintains an ethical standard of integrity and fairness to all.
Newspapers are full folio size unless described as quarto (abbreviated 4to) or octavo (8vo), which are respectively smaller in format. Most newspapers have been removed from bound volumes and may exhibit characteristic minor spine weakness or separation without significant paper loss. Magazines are disbound from annual volumes and lack wraps unless otherwise stated, as these were very rarely preserved in the bound runs. Each catalog entry is briefly described for its general appearance, historical significance, and content. Every one contains hours of additional historic reading and insights into the world preserved on its pages, much more than I could find the space to describe here.
I pride myself on the quality and accuracy of my catalog descriptions, and strive to provide all the information needed to enable you to make an informed selection. Please consult my collector information pages and glossary of terms page linked below, if you are not sure of what any of the descriptive terms mean.
Your comments are always welcome, as are your inquiries, if you have questions about these historic collectibles. We value our customers, and appreciate the confidence you place in us when ordering from our online catalogs. We strive to merit your patronage and to enrich your collecting experience through accurate, knowledgeable descriptions, honest pricing, courteous service, and timely order filling. Enjoy your browsing!
See also my new Collector Information Page detailing how to detect the occasional reproductions of Civil War newspapers that have been produced over the years.
Pictures of Cataloged Items
Scans or digital photos are available of many items in this catalog. To view them, click the "VIEW SCAN" button in the listing. You can return to the catalog by using your browser's "BACK" command. These ill illustrations are of the exact item being offered for sale and depict a full page or a detail close-up of a page of the issue. All papers are complete and undamaged as noted. Photos of newspapers described as "Atmosphere Issues" are of typical issues in stock and are provided to give a general idea of the papers' overall appearance. I hope to be able to provide pictures of all the items, as time allows and as I become more proficient with the scanner and digital camera.
How to Order from This Catalog
Because catalog items tend to sell quickly, I ask that you e-mail your order to me to confirm availability before you send payment. My catalogs use a "shopping cart" system, which will take you from each catalog to a confirmation page and when you are ready, to the order checkout page. To use it, please be sure the "javascript" and "accept cookies" functions are enabled in your browser.
To order a catalog item, please press the "Add to Cart" button. You will then see your "shopping basket" and its contents and total. You may remove selected items at any time, and use your browser's "Forward" button to view the cart page whenever you wish, and your "Back" button to return to the catalogs.
When you are ready to place your order, simply click "submit" on the completed checkout page, and it will be e-mailed to me. As soon as I receive your order, I will confirm the availability of your selections via return e-mail, with your invoice for the total amount due, and I will reserve your confirmed selections for receipt of payment.
I accept checks, money orders, and all credit cards through PayPal, the free, safest Internet payment service. If you choose this payment option on your order form, I will request PayPal to send you a bill for the amount of your confirmed order. As soon as your payment is received, I will ship your order to you.
Postage per order addressed within the United States is just $3.85. Postage will be added to overseas orders at my actual cost. There is a seven day return privilege on all items.

---
Glossary of Terms Page | Collector Information Page | Want List Page | Home Page
Civil War Catalog Index
Click on the highlighted Page Number to visit that page.